…and yes I did!
Here's a grainy, blurry shot of the big event: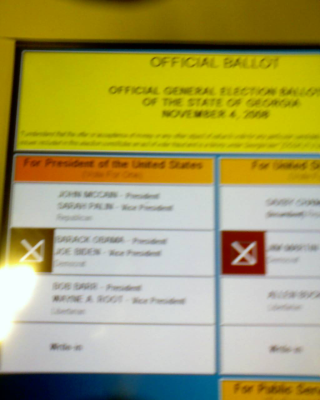 That's Obama for President, and Jim Martin for US Senate! Yeah!
I set my alarm for 5am to get there early. Unfortunately I slept through it and didn't get up until 610am. I raced to get dressed, stopped to get some caffeine and snacks and got in line. I was about 100th or so by the time I got there at 620am. The precinct (Fulton County 09A) is in an old folks home, rather large like 6-7 stories or so. And much to everyone in line's dismay, the poll workers let all the residents vote first before any of the folks in line could go. So that slowed things up a bit. Once that got done, the line was pretty efficient. The line was however, out the door, through the parking lot and onto Marietta Rd. I estimate there were about 300 or so people by the time I got out at 845am.
In 2004, there were 1048 votes cast in this precinct. And lots of people probably voted early (Jane and Moon waited SEVEN HOURS on friday!!).
With the growth in this area and the excitement about this election, I estimate the vote total will be around 1900 for our precinct. The results in this precinct for 2004 broke 68-30 in favor of John Kerry, which warms my heart. The place I lived in 2004 had the opposite results.
This time around for this precinct, I estimate 73-25 for Obama with maybe 1.5% split between Barr supporters and the half dozen or so write-ins for Ron Paul.